ALL TOO EASY....
Posted by Fury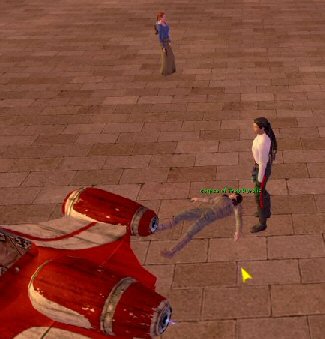 Today, on Naboo on the Gorath server, the seditionist Swomz met a tragic fate at the hands of none other than our Jester ninja, Sokudo.
For those who have not purchased and played Star Wars Galaxies, it may surprise you that the amount of time and activity put into it by some of our membership is quite extensive. Sokudo is a master bounty hunter and takes his job seriously. When it was brought to our attention that Swomz was just starting play in the game, it was decided that we should reward all his hard work in destabilizing this club by putting out a contract hit on him.
Sokudo was more than glad to take our credits and take the shots that put down Troy Pyralis, aka Swomz. Thanks to him for his quick work and diligent effort in pursuing a heinous blight on our history.
For those wanting more information on Galaxies and on whether or not you should jump into the game and work on building a Vast Empire influence, get on the Galaxies Comnet and see what you can do to help make a name for our club there.